This page features a compilation and selection of Thai seed industry news briefs, summaries and leads, with an emphasis on events that impact or affect provinces, regions, counties, cities and locales in the Kingdom of Thailand.
The news covers trends and events regarding seed regulation, testing, legislation, phytosanitary issues, intellectual property rights, biotechnology (genomics, gene-editing) plant breeding, agronomy and cropping, with original sources linked.
This page will be updated throughout the year, with most recent briefs listed first.
---
Q4 News
Chia Tai Officer Wins Agro-Business Award: December 27: Chia Tai Senior Vice President of Seed Business Chaiyapan Limpiwan was chosen by the Foundation of Science and Technology Council of Thailand (FSTT) for their distinguished citizen of the year award in the category of agricultural business, which honors highly successful individuals contributing to the betterment of society. The winner has over 40 years' experience in agriculture with Chia Tai, playing a significant role in the company's plant breeding, and has interests in social development and strengthening food security. Read full story here.
Thai Sugar Export Prospects: December 27: After two years of drought Thai sugar marketeers are eyeing a return to prosperity despite intense competition in export markets from India and Brazil and uncertain shipping conditions. Rainfall was about 15% higher year-on-year in key cane-growing regions, prompting estimates of sugar production in the range of 9.5 - 11 million metric tonnes and total cane production of 95 million metric tonnes. Sugar exports are forecast to rise 3.8 million metric tonnes to 7.5 million. But will it turn out to be a buyers' market? S&P Global Platts Analytics notes that, as no sugar deficit looms -- and with Asian container freight prices three-to-four times higher than last year's -- buyers may lack a sense of urgency. Meanwhile, raw sugar traders say reduction in bulk freight prices is promoting export to major sugar importing countries such as Indonesia. Read full story here.
East-West Thailand to Distribute Breeding Varieties Developed Under Royal Sponsorship: November 17: East-West Seed Thailand will collaborate with the Chaipattana Foundation to distribute breeding varieties developed under royal sponsorship-- the first time a commercial seed company has been allowed to produce and distribute them. The Chaipattana Foundation is chaired by the King of Thailand's sister, Princess Maha Chakri Sirindhorn, and acts to support farmers and improve public health and nutrition across the country. For more details about the varieties see here, here and here.
Thai academia and industry conform for sustainable agriculture: On November 29, the Embassy of the Kingdom of the Netherlands organized the first Cleveringa Lecture in Thailand on "Global Agro-Biodiversity; A Communication on Sustainable Agro-Food Value Chain", inviting various government and industry active stakeholder in sustainable agriculture based or operating in Thailand. Attending on behalf of the Asia and Pacific Seed Alliance (APSA) were the association's President Wichai Laocharoenpornkul and Executive Director, Dr. Kanokwan Chodchoey. Following welcome remarks from the Netherlands Ambassador to Thailand, H.E. Mr. Remco van Wijngaarden, the lecture formally commenced with presentations on the key theme from Dr. Pattarawadee Sumthong Nakmee, Dean of Science at Sri Racha, Kasetsart University, Sri Racha Campus and three students — from Srinakharinwirot University, Kasetsart Universiyt, Sri Racha Campus and Kasetsart University, Kamphangsaen Campus. This was followed by discussions and a networking reception.
Chia Tai Contributes to Society By Joining Forces in "We Do Good By Heart" Volunteer Project: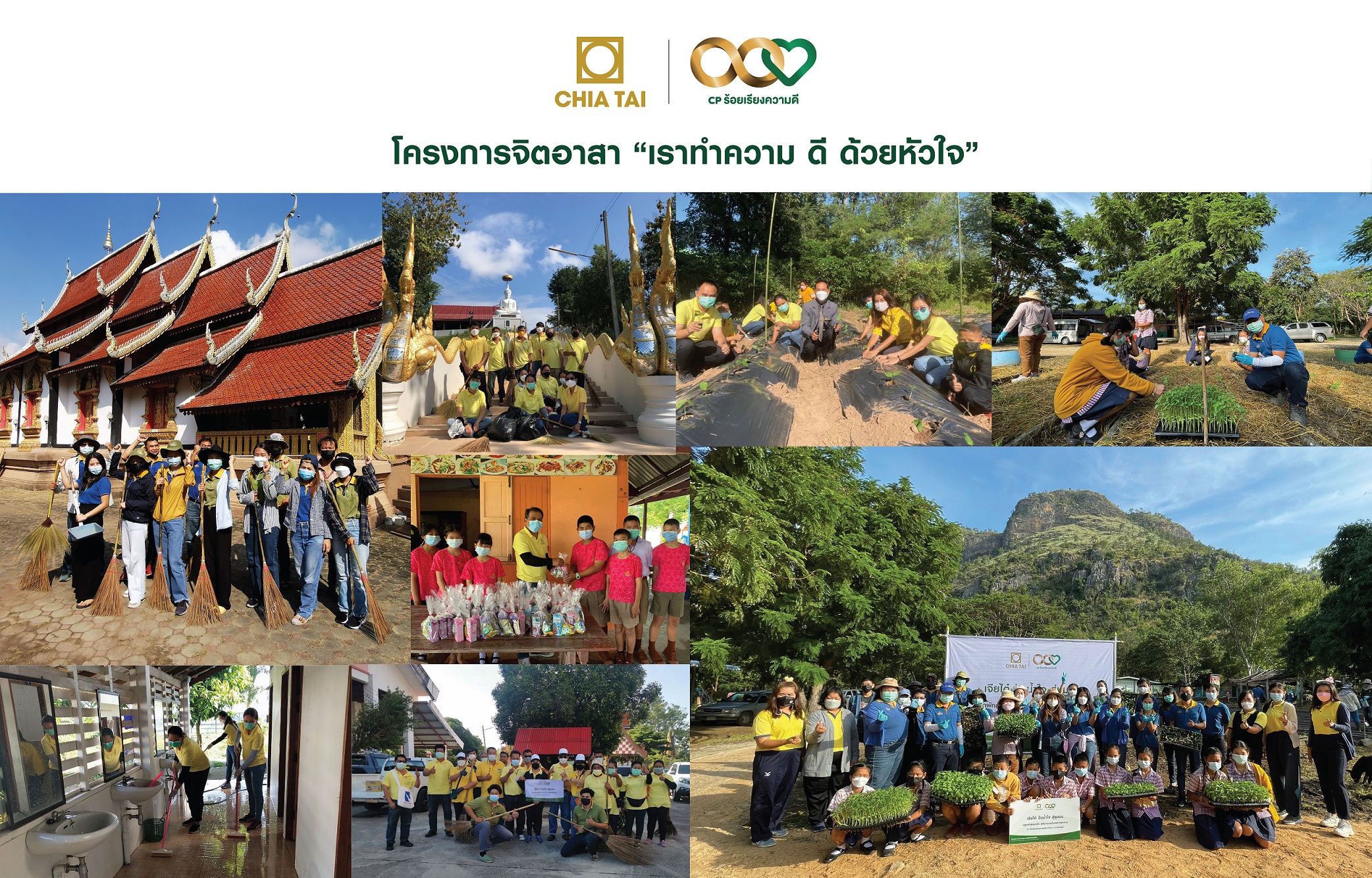 November 26: Chia Tai Company Limited, Thailand's leading innovative agricultural company, powers up with employees to volunteer to do good deeds for the communities nationwide through "We Do Good By Heart" Volunteer Project in accordance with Charoen Pokphand Group's practice in remembrance of His Majesty King Bhumibol Adulyadej The Great on the occasion of His Majesty's birthday. The volunteer activity is hosted on the last Friday of every year. This year, over 150 Chia Tai staff volunteers nationwide takes part in social contribution activities for various communities nearby Chia Tai's locations in 7 provinces as follows:
Khon Kaen Province: Planting chemical-free vegetables for students' lunch at Ban None Ruang, Khon Kaen
Ayutthaya Province: Cleaning Wat Bot Somporn Chai's yard and repairing the temple's electricity facilities
Kanchanaburi Province: Planting vegetables at Ban Nong Sampran School, Kanchanaburi
Supanburi Province: Improving landscape and cleaning areas of Wat Kok Moe, Supanburi
Nan Province: Cleaning Sai Sa-Nam Muab Road (around the company's neighborhood) as well as cleaning and planting flowers in Wat Ban Khu Viang, Nan
Chiang Mai Province: Cleaning Wat Ban Pho Pichit, Chiang Mai
Lampang Province: Cleaning Wat Mon Kanyaram, Lampang
Chia Tai has always operated business while focusing on ethical conduct and supporting the development of nearby communities and stakeholders. To this end, this recent social contribution initiative is another effort that reflects Chia Tai's commitment to our purpose to enhance people's quality of life on a sustainable basis by fostering agricultural innovations through quality products and services.
THASTA webinar enhances Thai knowledge and awareness of gene-edting: On 20-21 October, the Thai Seed Trade Association (ThaSTA), in partnership with APSA, the International Seed Federation, Crop Life International and CBIJ, co organized a seminar on gene-editing technology for ThaSTA members,. Covering applications in agriculture and food, including regulatory trends and developments, the program featured some of the most knowledgeable experts on the subject from around the world. Presentations were in English and can be accessed via ThaSTA's website here.
---
Q3 News
Crops drowned in wake of worst flooding in a decade: September 30: Tens of thousands of villagers and farmers have been displaced by severe flooding induced by incessant rains that came with and followed a tropical depression (Dianmu), which swept through Thailand on September 25-27. Several media reports have covered the disastrous effects in dozens of provinces in North, Northeast and Central Thailand, including the following highlights Asian Seed had come across at time of press:
As of September 29, it was reported that 816,607 rai (130,657 hectares) of land was submerged in Thailand's north and central provinces - the bulk being in Nakhon Sawan, Phichit, Sukhothai and Lopburi provinces (source). It was also reported that hundreds of hectares of cropland in several districts in Suphanburi province were inundated, affecting paddy, cassava, cane watermelon, as well as aquaculture ponds and livestock. Source here, and no less than 5,000 rad of cropland was damaged in the Wang Noi district of Khon Kaen province (source).
On September 28, media reported that more than 228,840 rai (36614.4 ha) of agriculture land in Chaiyaphum province had been flooded (source here), though according to a September 29 report (here) 160,000 rai of paddy in that province was reported damaged from floods, in addition to another 150,000 rai reportedly flooded in the neighboring province of Nakhon Ratchasima.
A survey in neighboring Lopburi province, revealed that on September 27 some 350,215 rai (56,034.4 ha) of cropland was inundated, including 99,233 rai of paddy, 89,346 rai of feed corn, 136,367 rai of cassava, 23,530 rai of sugar cane and 1,739 rai of fruits and vegetables - affecting 50,184 farmers in 972 villages of the province. (source here). A follow up report on September 28 revealed that 10 out of the province's 11 districts had been effected, including 55,197 residents in 647 villages, with over 2,000 rai of agriculture land damaged.
On Sept 27, thousands of banana trees were inundated on plantations in Ayutthaya province (source here), while hundreds of hectares of paddy were underwater in Pichit province (source here)
Assessments were ongoing and the acreage of damage crops and may grow or change in the coming days
Lockdowns bring closures, uncertainty & fear to fresh markets: Covid associated fear, hysteria and public health measures have spread to local freshmarkets, many of which have been ordered shut following wide reports of local outbreaks: the Nakhon Ratchasima City Municipality fresh market was ordered shut from 1 August, citing a new cluster linked to it; likewise, freshmarkets were ordered shut in Phuket early in August; while Rayong Governor on August 11 ordered shut the Star Fresh Market in Rayong City shut after it was reported that 11 "aliens" linked to the vegetable section had tested positive. In similar closures, the Lopburi City Municipality Market was shut from August 16; Prachuap Khiri Khan municipal market shut from August 17; Surat Thani City Municipality shut from August 19, and the Nakhon Phanom fresh market was ordered shut from August 22 after one vegetable vendor reportedly have tested positive. Though some rural markets were open for business, the situation proved to be tense at times. In one case a August 26 video report shows market goers arguing with one 69-year-old vendor at a fresh market in Lukkae Subdistrict, Tha Maka District, Kanchanaburi Province. The lady, who asserted she was not infected, refused demands for her to leave, get tested and quarantine at home after a neighboring vendor had previously tested positive for covid. Local authorities had cordoned off her stall (while she was still there), the viral clip shows. Elsewhere, spray sanitation and mass testing of vendors has been carried out to facilitate the conditional reopening of eerily quiet markets, as was the case in Nakhon Ratchasima, as reported on August 24.
Consumers stockpiling essential goods: August 13: Operators of supermarkets and hypermarkets report that consumers have been stocking up on large quantities of essential goods, which has resulted in shortages of some items. Lockdown measures have spurred demand for everything from packed rice, cooking oil and instant noodles to meat, seasoning, fish sauce, tissue paper and drinking water. "Consumers have been stocking up during the daily reports of high infection rates and infection spread to the factories and distribution centres of some retailers," said one retailer. See full report here.
CP growing herbs, distributing meal boxes as part of relief: August 17: In a televised interview with the Thai-Chinese agro-food tycoon Dhanin Chearavanont (Senior chairman of Charoen Pokphand Group), it was revealed that the firm is growing green chiretta, an herb reported to have antiviral and intiinflamatory properties, on a 160 hectare area as well as distributing food boxes as part of covid relief efforts. The company aims to produce 30 million tablets of the herb anbd distribute them across the kingdom. Full details here.
Chia Tai launches Pakchoy hybrids: July 5: Chia Tai Company Limited, Thailand's leading innovative agricultural company has released Thailand's first-ever Flowering Pakchoy F1 hybrids: the Flowering Pakchoy Khaonuan and Flowering Pakchoy Pinmorrakot. These two new varieties require fewer seeds but yield twice as much when compared to conventional varieties. They can be harvested in only 30–35 days after sowing.
Chia recognizes the issues surrounding the cultivation of Open Pollinated (OP) seeds. For instance, the seed requirement is high while yields are low, necessitating multiple harvests. Furthermore the plant size is inconsistent. To address these challenges, and thus provide farmers with more alternatives of seed varieties Chia Tai developed these two new F1 hybrids, with details as follows: .
1. Flowering Pakchoy Khaonuan (F1-Hybrid) has light green and large stalks, nice flower heads, and a steady growth rate. The produce normally weighs 90-100 grams each on average, which is better than other OP ones that weigh only 35-40 grams each. Farmers can also expect high yields (on average 2.5-3.5 tons per rai), which is twice as much as the regular yield volume of OP seeds. After seeding, farmers can harvest their crops in 30–35 days. It is popular among farmers because of all these advantages. Flowering Pakchoy Khaonuan (F1-Hybrid), which is popular in the Northern and Northeastern regions, is suitable for basic recipes. such as Boiled Flowering Pakchoy with Chili Paste, Northern Thai Spicy Soup, or Northern-Style Flowering Pakchoy Soup.
2. Flowering Pakchoy Pinmorrakot (F1-Hybrid) has dark green and large stalks. Farmers prefers it because of its high weight (average of 90-100 grams per plant), which is superior to other OP plants that weigh just 35-40 grams per plant. Plus, farmers can expect high yields (on average 2.5-3.5 tons per rai), which is twice the volume of ordinary OP seed harvests and can also harvest their crops in 30–35 days after seeding. Flowering Pakchoy Pinmorrakot (F1-Hybrid) is a perfect ingredient for various recipes, particularly Hong Kong-Style ones, such as Stir-fried Flowering Pakchoy with Oyster Sauce, or other recipes similar to Flowering Pakchoy Khaonuan (F1-Hybrid).
Mr. Supat Mekiyanon, Assistant Vice President of Research & Development of Chia Tai Company Limited, commented on the goals for and benefits of breeding Thailand's first-ever Flowering Pakchoy F1 hybrids: "We acknowledge the significance and potential of moving forward. We have excellent breeding capability for developing hybrid seed varieties that are distinct from the existing OP seeds. The breeding effort intends to bring greater benefits to our fellow farmers by allowing them to obtain larger yields with fewer seeds and enjoy a consistent growth rate, resulting in a single harvest period. After all, farmers can grow their plants efficiently, anticipate yield volumes, benefit from lesser risks, and eventually earn steady income."
Original story here.
Thailand tightens Covid-19 measures with new lockdown: July 22: Fresh COVID-19 restrictions and curfews were imposed in Greater Bangkok and southern provinces, as Thailand tallied record case numbers of COVID-19. The most severe restrictions were targeted at the capital Bangkok, its surrounding provinces and the southern provinces of Pattani, Narathiwas, Yala, and Satun. The measures include a 9 pm to 4 am curfew for non-essential movement, closure of shopping malls, massage parlours, beauty salons, gyms and bars. Restaurants are restricted to take-away only with many businesses seeking temporary premises outside of the closed shopping malls from which to continue to operate. Social gatherings are capped at five people, and officials have urged employees in both private and public sectors to work from home where possible. However, supermarkets, banks, hospitals and medical clinics will still be allowed to open. Domestic air travel has been suspended to and from Bangkok while other domestic flights must fly at no more than 50% capacity. Strict measures are also in place at checkpoints to prevent interprovincial arrivals from high-risk provinces.
Chia Tai's "Century Star" Watermelon wins prestigious award in the US: Bangkok, 12 July 2021 – Chia Tai's "Century Star" watermelon variety was recently awarded as a Regional Winner in the internationally renowned All-America Selections® Awards. Chia Tai has amassed wealth of plant breeding know-how over the course of a century. In this regard, Century Star Watermelon is one of the results of meticulous research and development aimed at meeting market demands and adding value to the product, while also commemorating Chia Tai's Centennial. This new seedless watermelon has an attractive dark green rind with yellow spots that resembles the moon and stars in the sky at night, making it a unique product in the market. Apart from the vivid yellow spots that set this award-winning watermelon apart from other varieties, Century Star Watermelon has several additional advantages. It is easy to grow, robust, disease-resistant, and adaptable to a range of planting situations. In addition, this watermelon provides an excellent average yield of 3–5 kilograms. Farmers are rewarded with a beautiful round fruit, sweet and crispy interior flesh from this cutting-edge seedless cultivar. All these traits make Century Star Watermelon a truly deserving award winning variety from All - America Selections (AAS). All-America Selections® was founded in 1932 and continues as the oldest independent testing organization in North America. Every year, new varieties, which have never been sold in North America, are trialed and professional horticulturists select winning varieties based on their performance. Mr. Manas Chiaravanond, Chief Executive Officer of Chia Tai Company Limited, said, "The fact that our Century Star Watermelon won the AAS Regional Winner Award this year is certainly a source of great pride for all of us at Chia Tai. Century Star Watermelon is like a beautiful star that shines brightly and makes all of us in the Chia Tai Family proud, especially as we start the next century of our business operations. The AAS award is testament to Chia Tai's strong commitment to fostering agricultural innovations and demonstrates our ongoing efforts to improve ourselves over the past century. We have a great team of high-caliber professionals and breeders, and we are committed to providing the finest to our fellow farmers and customers in order to increase food security and enhance people's quality of life on a sustainable basis.
Mr. Supat Mekiyanon, Assistant Vice President of Research & Development, Chia Tai Company Limited, added, "Chia Tai's team of watermelon breeders recognizes that yellow spots on the rind of heirloom watermelon varieties are one of the distinguishing qualities that local farmers generally believe will bring them good luck. As a result, any watermelons with yellow spots are rare and expensive on the market. Realizing this, the breeder team chose to capitalize on these distinct traits by improving the quality and developing it to become the Century Star Watermelon, which is superior to other heirloom varieties. This variety of watermelon seeds not only offer greater quality, but also are easy to grow, providing great fruits that are delectable and seedless while meeting current market demands. Century Star Watermelon seeds were trialed by professional horticulturists in the AAS network across America. Based on its performance, our Century Star Watermelon was declared Regional winner of the AAS Awards.
Chia Tai's Century Star Watermelon seeds will initially be sold in the US and later made available for the Thai market. Interested persons can learn more about news and updates on Facebook and on Chia Tai's website, as well as Line: @CHIATAISEED
---
Q2 News
Pumpkin farmers hurting from falling crisis prices: May 19: At Ban Phaeng District Office in Nakhon Phanom Province, a meeting was held to discuss assistance for pumpkin farmers due to the falling price of pumpkin. Participating in the meeting were local leaders from Ban Phaeng, the Second Deputy Speaker of the House of Representatives, Mr Suphachai Phosu, member of parliament for Nakhon Phanom District 1, Ms Kanatha Apinant Thanakaset, and head of the Nakhon Phanom Department of Agricultural Extension, Mr Winai Kong Yuen, and representatives of pumpkin growers from 14 villages in the province. The Deputy District Chief discussed the issue being faced by pumpkin farmers in the area due to the price of pumpkin being much lower than the previous year due to the economic effects of the global pandemic. Speaking at the meeting, a local farmer explained that middlemen were offering only USD 0.064 per kilogram, compared to USD 0.35 per kilogram the previous year. He asked the government and private sector to help support the price at USD 0.16 - 0.19 per kilogram, which would allow the farmers to break even. The mayor of Ban Phaeng Municipality spoke about the benefits to farmers of forming community enterprise groups to negotiate the price of their crops to avoid being taken advantage of by unscrupulous middlemen. Mr Supachai proposed the setting up of a fund of around USD 3,200 to purchase 30% of the total produce from farmers at USD 0.16 per kilogram and then trying to find a buyer, suggesting that there was a demand for pumpkin juice and pumpkin crisps from consumers. Original story in Thai language
Thailands 'National Veg Policy'?: May 13: Thailand agriculture stakeholders came together for an online discussion on creating a 'national national policy' which was part of international dialogues to support the UN Food Systems Summit National Dialogue, and co-hosted by Thailand's Ministry of Agriculture and Cooperatives (MOAC), the Thai Health Promotion Foundation, and WorldVeg East and Southeast Asia. Nine speakers, including Dr. Vanida Khumnirdpetch, Director of Foreign Agricultural Affairs, MOAC; Delphine Larrousse, WorldVeg Regional Director; and Jody Harris, WorldVeg Global Lead Specialist for Food Systems, engaged more than 250 participants through online presentations and breakout discussions.
Ideas and comments generated during the dialogue will inform and shape policy platforms at the pre-summit in July and the summit in September.
DOD to proceed with hemp seed imports: May 18: DOD Biotech subsidiary Siam Herbaltech Co., Ltd., plans to proceed with importing hemp seeds imports from the United States this June. The company plans to import 10 varieties from the US, including eight bred for cannabidiol (CBD) extraction, and two conventional hemp (bred for fiber) varieties. See original story in Thai here.
Seeds for Royal Ploughing tradition prepared: May 10: Though the main event of the traditional Royal Ploughing Ceremony -- usually planned as a large public gathering on May 10 on the Sanam Luang royal grounds -- was cancelled citing COVID-19, paddy seeds of five varieties were prepared for distribution to farmers nationwide. The seeds were packed in to 366,000 packets. See here for news in Thai, and descriptions in Thai of five varieties here.
Chia Tai launches four new products: Chia Tai Home Garden by Chia Tai Company Limited, Thailand's leading innovative agricultural company, has introduced four new products for keen planters to enjoy.
Developed by Chia Tai, the new products come in new "easy packages" with Melon Golden Queen, Watermelon Smoothy, Sweet Corn Double Delight, and White Cucumber seeds.
• Melon Golden Queen is one of Chia Tai's most popular melon varieties, with yellow skin, sweet and subtle flesh, and pleasant texture.
• Watermelon Smoothy is Chia Tai Home Garden's new seedless watermelon variety that has waxy black skin and delectable red flesh.
• Sweetcorn Double Delight is bi-colour sweetcorn (white and yellow) with a sweet taste and full yellow kernels. It is also easy to grow and offers great yields.
• White Cucumber comes with light green and white skin, is easy to grow and resistant to diseases and stands up to freight transport well. It has a short harvest time and can be prepared in a variety of ways.
The new "easy packages" offer an easy way for customers to enjoy planting at home, especially as many people are having to work from home and spend most of their time at home.
The four new products are developed with the aim of helping farmers plant fruits and vegetables that meet the needs of consumers, increase food security, and also boost income for farmers. Which is in line with Chia Tai's broader aim of enhancing quality of life on a sustainable basis by fostering agricultural innovations through quality products and services.
Those interested can purchase the seeds at leading agricultural supply stores and modern trade stores nationwide. Or place your order at www.ct-homegarden.com /Line: @homegarden / Facebook of Chia Tai Home Garden: www.facebook.com/cthomegarden.
Seeds of four fiber hemp varieties offered for sale: 27 April: The Highland Research and Development Institute (HRDI) will be offering for sale to its partners and the general public seeds of four hemp (non-psychoactive cultivar of Cannabis sativa) varieties from 26 April to 5 May. In total it has prepared for sale 5,600 kilograms of seed,certified by a narcotics control committee under the Ministry of Public Health. All four of the institute's varieties -- which have PVP registration in Thailand -- were initially bred for production of hemp fiber. Both grain and certified seed are available for individuals at the rate of THB750 and 520 ($23.88 and $16.56) per kg, respectively, with a quota capped at 20kg per individual. See full details here as well as here.
Rice seed inspectors dispatched: 27 April: As Thailand prepares for the coming rice planting season, some 257 'rice seed inspectors' have been dispatched to conduct inspections of rice seed retailers and traders across the kingdom, and thus ensure full compliance with seed quality laws, standards and regulations. Thai news here.
Varietal purity AI analysis of rice seeds has 85% accuracy: 27 April: Associate Professor Dr. Woraphan Kusakulniran of the Mahidol University of Information and Communications Technology has revealed promising research results for using Artificial Intelligence to analyze rice varietal purity in a given sample. Specifically, using Mask R-CNN (Mask Regional Convolutional Neuron Network) and Machine Learning, the composition of two given varieties can be determined from images of sample of rice seeds, with a promising 85% accuracy rate, which is reportedly 20% higher than expert human analysis, findings show. The technique once refined, shows promise for other types of seeds and agricultural produce. See original story in Thai here as well as here.
DOAE happiness pantry stocked with free seeds: April 24: The Department of Agriculture Extension (DOAE) has added five types of sowing seed to its covid relief 'Too Pun Suk' (the Happiness Cupboard), which is a mobile pantry-type cupboard stocked with free food necessities for distribution to members of the public struggling during these pandemic times. The pantry, which is stocked with fresh produce and processed food items in addition to seeds of basil, Thai eggplant, okhra, purple winged-bean and Thai chillies, is located at the DOAE's main entrance next to Kasetsart University BTS station. Details in Thai here.
Chia Tai Receives Q Mark Certifying Product Safety and Standards: 8 April: Chia Tai Company Limited, Thailand's leading innovative agricultural company, recently acquired "Q Mark" food safety certification from the National Bureau of Agricultural Commodity & Food Standards (ACFS). The mark assures customers that Chia Tai Farm produce meet the bureau's standards. Q Mark certifies the quality and safety of Chia Tai's production process which is the company's top priority. More details here.
Thai RD distributes paddy for planting: April 7: Coinciding with the annual ceremony for Royal Ploughing Day -- a national holiday to commence the primary rice planting season -- Thailand's Rice Department prepared 1,396 kilograms of paddy seed, including five popular Thai rice varieties: 105 Thai Jasmine; Pathumthani 1; GorKor 43; GorKor 6; and GorKor 79. The Rice Department went on to distribute 366,000 sacks of paddy through its network of Rice Communities. Original story here.
---
Q1 News
THASTHA new president: Dr. Boonyanath Nathwong has commenced her tenure as the new president of Thai Seed Trade Association (THASTA), taking the reins over from Immediate Past President, Dr. Chairerg Sagwansupyakorn. Dr. Boonyanath's appointment was announced during THASTHA's General Assembly Meeting on 24 March, held at the Maharuai Hotel in Bangkok. Dr. Boonyanath, who is the Director of Regulatory Affairs at Monsanto, Thailand of @Bayer Crop Sciences, is an active member of APSA's Standing Committee of International Trade and Quarantine, who has worked diligently with us in a number of regional initiatives.
CP to Invest into Research for Hemp Food Production: March 16: Charoen Pokphand Group has teamed up with Maejo University to collaborate on research into hemp for the development of food products. The move is in line with government policy to promote hemp as a cash crop as a way to increase income for farmers and to benefit public health and the economy. The research will investigate hemp variety development, growing techniques, and methods to utilise hemp extract as an ingredient in food production. Products will be able to be traced back to plant varieties and cultivation sites in order to meet food safety requirements. Ready-made meals containing hemp extract may be released later this year. Original story in Thai here
82 Community Enterprises Now Licensed to Grow Cannabis: March 14: Hemp-related businesses have begun taking off after the FDA removed parts of the cannabis plant from the narcotics schedule in December 2020, and there are now a reported 82 community enterprises throughout the country that have received licenses to grow the plant. These are located in Buriram, Nakhon Ratchasima, and Mae Hong Son provinces as well as Bangkok.
Deputy Prime Minister and Minister of Public Health, Anutin Charnvirakul, revealed that the government aimed to promote the development of cannabis to take advantage of a global market estimated to be worth 17.5 billion US dollars. The government is encouraging the development of a complete range of cannabis products to benefit the economy in the fields of traditional Thai medicine, health products, and health tourism.
The purchase price of grade A dried flowers with a CBD content greater than 12% is reported at 45,000 Baht per kg; grade B flowers with CBD content of 10-11.9% at 37,500-43,125 Baht per kg; and flowers with CBD content of 8-9.9% selling at 30,000-35,625 Bcvfaht per kg. Original story in Thai here
Chia Tai Chief named Person of the Year, firm lauded for Best Practices: Mr. Manas Chiaravanond, Chief Executive Officer of Chia Tai Company Limited, Thailand's leading innovative agricultural company has been named "Person of the Year 2021", while his company was bestowed with the "Best Practice Awards 2021". The accolades were conferred during a presentation ceremony on 5 March 2021 at Air Force Convention Hall Read more here.
Webinar Q&A on new Thailand seed import conditions: February 25: APSA, together with the Thai Seed Trade Association (THASTA) and Department of Agriculture (DoA), Thailand on February 25 co-organized the "Q&A Webinar on Thailand Import Conditions on Tomato, Pepper, Eggplant and Corn Seeds". Broadcast from APSA's Bangkok Secretariat office, the webinar was held in English to inform and advise concerned importers prepare to comply with the new regulations, which come into force on 13 April, 2021. The new regulations cover various seed specific requirements, conditions and procedures such as those related to certification, inspection procedures, phytosanitary measures (including species-specific pest lists and treatments) as well as seed testing sample size. Presenting on the conditions on behalf of the DoA was Ms Chonticha Rakkrai, (Director, Plant Protection Research and Development Office). Following her presentation, Ms Chonticha, along with her colleagues from the DoA,
Ms Sukhontip Sombat (Agricultural Research Specialist, Plant Protection Research and Development Office) and Mr. Surapol Yinasawapun (Plant Quarantine Expert). The full webinar can be viewed on APSA's website here. The summary report and presentation will be uploaded to the APSA members area.
The 17th National Conference on Seed Technology 2021: 16 Dec: The Seed Association of Thailand, in association with Rajamangala University of Technology Suvarnabhumi, the Rice Department, the Department of Agriculture Extension, the Forestry Department, the Thai Seed Trade Association, the Plant Breeding and Multiplication Association of Thailand, and the Asia Pacifi Seed Association, will hold the 17th National Plant Seeds Symposium during 22 - 24 June 2021 at Rajamangala University of Technology Suvarnabhumi, Phra Nakhon Si Ayutthaya Hantra Campus, Ayutthaya Province. The conference will host researchers, academics, and the private sector with the aim of growing Thailand into a global "Seed Hub". Topics will include information on research and development of seed technology, the direction and framework for seed research for use in the seed industry, and how seed research institutions can solve the problems experienced by the Thai seed industry.
New Thai medical Cannabis cultivar gets PVP: A newly documented Cultivar of Cannabis Sativa has been issued a Plant Variety Protection (PVP) certificate. Details of the PVP application for the "Isara 01" cultivar of Cannabis Sativa, including the cultivar's origin, phenotypic and physiological characteristics, were publicized by Thailand's PVP Office (under the Department of Agriculture, Ministry of Agriculture and Cooperatives), via a notice dated December 23, 2020, which was signed by DoA Director-General Pichet Wiriyaphaha, and mandated for a 30-day period for objections to be filed. After no objection was reported, a PVP certificate was issued on January 29, 2021. According to details in the PVP application -- which was jointly lodged on behalf of the Chiang Rai Organic Agro-Forestry Foundation, Department of Medical Services and the Department of Agriculture -- the cultivar was bred over a period of 24 years, starting from landrace seeds collected from farmers, hill tribe people and law enforcement officers in several provinces in Northern Thailand, including Chiang Mai, Chiang Rai, Mae Hong Son, Tak and Nan. Though earlier generations of the cultivar were reportedly selected and bred specifically for industrial hemp purposes, later breeding and seed multiplication efforts -- carried out as part of cooperation with Maejo University, Rajamangala University of Technology Lanna and the Department of Medical Services -- focused on medicinal properties. According to an analysis of leaf samples, the average cannabinoid content was reported to be 8.55% TCH and 6.93% CBD, respectively. The seeds, are grey and brown colored, and a sample of 1,000 seeds weighs 32 grams. PVP application details in Thai here.
New regulation broadens hemp cultivation scope: Since January 29, 2021, Thai authorities have been processing applications from Thai entities for licenses to produce, import, export, distribute, and possess hemp (low THC cultivars of Cannabis sativa). According to "Ministerial Regulation Re: Application and License for Pr
oduction, Importation, Exportation, Selling or Possession of Hemp," which came into force 30 days after it was published in the Government Gazette (on December 30, 2020), licenses may be issued for various objectives, including study, research and development, or breeding of hemp varieties as well as production of certified hemp seeds. Eligibility for licenses is restricted to Thai citizens, Thailand-registered companies with at least two-thirds of directors, partners, or shareholders holding Thai nationality, and Thailand-registered community enterprises. More details can be found here as well as Thai regulation here. According to the latest amendments to the Thai narcotics law, various parts or derivatives of the cannabis plant -- including seeds, stems, leaves and extracts -- are not considered narcotics if they contain less than 0.2% THC.
Chia Tai donates vegetable seeds to hill tribe communities: 13 January 2021 – Chai Tai Company Limited, Thailand's leading innovative agricultural company that has grown alongside Thai farmers for a long time, is firmly committed to driving sustainable development for Thai society by promoting people's quality of life and enhancing children's development in a bid to ensure food security and uplift people's living quality on a sustainable basis. Chia Tai has recently supported "Hom Doi Klai Nao Year 2 Project" organized by E Jan in collaboration with Phetkasem Foundation to develop 3 border patrol police schools in Mae Sariang District, Mae Hong Son Province, including Ban Joprakee, Ban Pomue and Ban Koprae Border Patrol Police Schools. In this regard, Chia Tai donates home garden vegetable seeds which are suitable for planting in highland climate for the local people. See full story here.
DoA Thailand announces seed import conditions: January 2021: The Department of Agriculture (DoA), Thailand has announced new conditions for the import of tomato, pepper, eggplant and maize seeds for sowing in Thailand. The announcement was made on 13 January, 2021 and the new conditions will come into force 90 days after the announcement date. The DoA plans to submit the English version of the notification to World Trade Organization within February 2021. The conditions cover various seed specific requirements, conditions and procedures such as those related to certification, inspection procedures, phytosanitary measures (including species-specific pest lists and treatments) as well as seed testing sample size. The conditions will be published in English in Asian Seed magazine. Meanwhile, you can find the Thai version for pepper seeds here; eggplant seeds here; maize seeds here; and tomato seeds here.
East-West Seeds inks MoU with Community Development Dept: On January 13 East West Seed General Manager Mr. Wichai Laocharoenpornkul signed a Memorandum of Understanding with Suthipong Chulcharoen, Director-General of the Department of Community Development under the Ministry of Interior to commit to a project to distribute 100,000 packets of East-West Seed vegetable seeds as part of a 90-day community food security initiative. Read more here.